ExxonMobil Oil and Gas
ExxonMobil filed SEC Form 10-K for its activities up to the end of 2015. An extract from it shows that it is engaged in hydraulic fracturing (fracking):-
B. Review of Principal Ongoing Activities
UNITED STATES
ExxonMobil's year-end 2015 acreage holdings totaled 14.0 million net acres, of which 1.3 million net acres were offshore. ExxonMobil was active in areas onshore and offshore in the lower 48 states and in Alaska.
During the year, 1,063.2 net exploration and development wells were completed in the inland lower 48 states. Development activities focused on liquids-rich opportunities in the onshore U.S., primarily in the Permian Basin of West Texas and New Mexico and the Bakken oil play in North Dakota and Montana. In addition, gas development activities continued in the Marcellus Shale of Pennsylvania and West Virginia and the Utica Shale of Ohio.
ExxonMobil's net acreage in the Gulf of Mexico at year-end 2015 was 1.2 million acres. A total of 3.5 net development wells were completed during the year. The deepwater Hadrian South project and the non-operated Lucius project started up in 2015. ExxonMobil continued development activities on the Heidelberg and Julia Phase 1 projects. Offshore California 1.0 net development well was completed.
Participation in Alaska production and development continued with a total of 20.9 net development wells completed. Development activities continued on the Point Thomson project.
In the US in 2015 ExxonMobil's net liquids production was 412 thousand barrels per day (Gb 0.150) and its natural gas production was 3,147 millions cubic feet per day (Gboe 0.218). It can be assumed that some of the liquids and most of the gas was produced by fracking.
Table of reserves and production plot
The ExxonMobil annual reports have been analysed to produce a table from which its upstream productions trend can be plotted.
Oil and gas companies now show their results as barrels of oil equivalent in which natural gas is given an oil equivalent based on comparative heating values. Liquids includes oil and natural gas liquids (NGLs).

ExxonMobil's US liquids production was 17.5% of its total liquids production. Its US gas production was 33.9% of its total gas production. From the above liquids and gas production figures plots can be derived.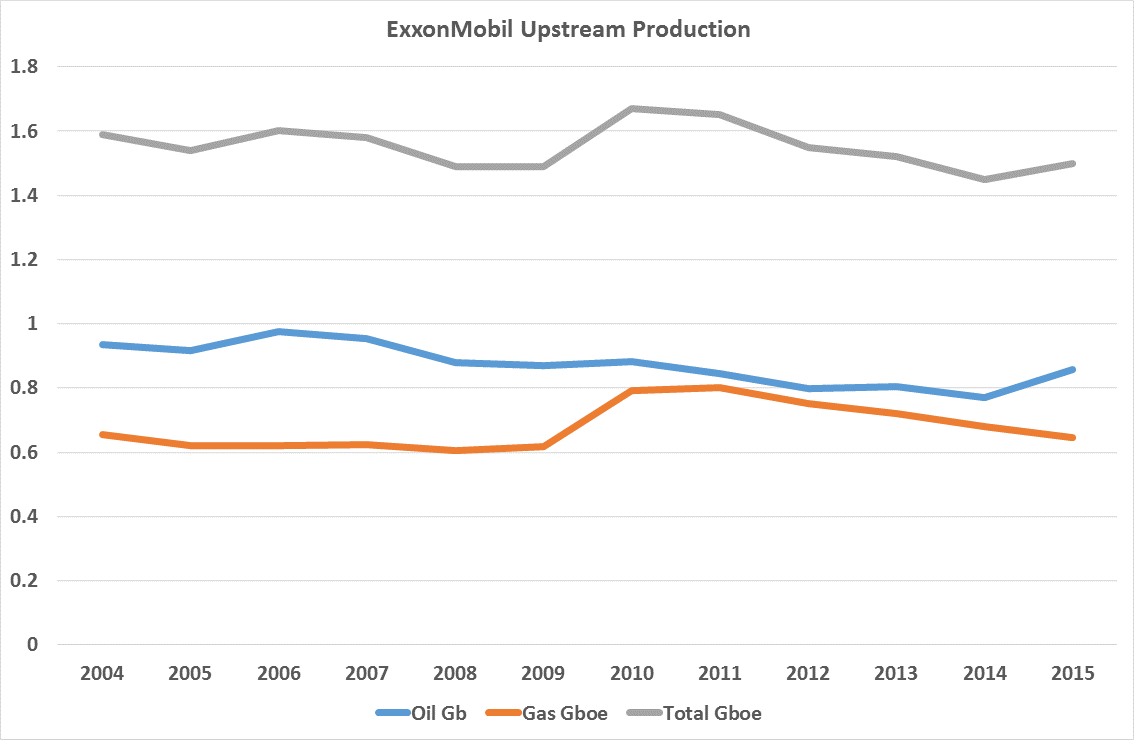 The plot shows that ExxonMobil's liquids production peaked in 2006 and has since then declined from Gb 0.980 to Gb 0.770 in 2014, but rose by 11.2% over 2014 in 2015 to 0.856 Gb.
The fall of 21% from 2006 reduced to 12.6% due to the contribution of tight oil fracking.
Its natural gas production peaked in 2011, but has since declined by 15%.
The combined oil and oil equivalent of gas production peaked in 2010 as it was boosted by the rise in natural gas production presumably from fracking, but has since declined by 10.2%, boosted in 2015 by the oil shales production.
The SEC 10-K Form figures show that ExxonMobil has shifted its focus to liquids production in the oil shales showing a lift in its production in 2015. Exxon has avoided the huge financial losses in fracking for gas and has allowed its production in gas to decline.
John Busby 21 December 2016