Heathrow Third Runway
On 1 July 2015 the Airport Commission issued its Final Report and was immediately disbanded.
The Airport Commission ... unanimously concluded that the proposal for a new Northwest Runway at Heathrow Airport, in combination with a significant package of measures to address its environmental and community impacts..., presents the strongest case.
The Commission failed to make the case for the need for any more runways in the UK as it took no cognisance of the Department of Transport's (DfT) aviation statistics, or if it did, it failed to recognise their significance. DfT publishes traffic statistics annually at the end of July. See links (1) and (2).
These two plots show the overall runway use in the UK and at Heathrow. The last year's figures for passenger numbers, freight weights and air transport movements are divided by those for 2007 when runway use peaked in the UK and at Heathrow to create comparative indices.
Figure 1 UK Runway usage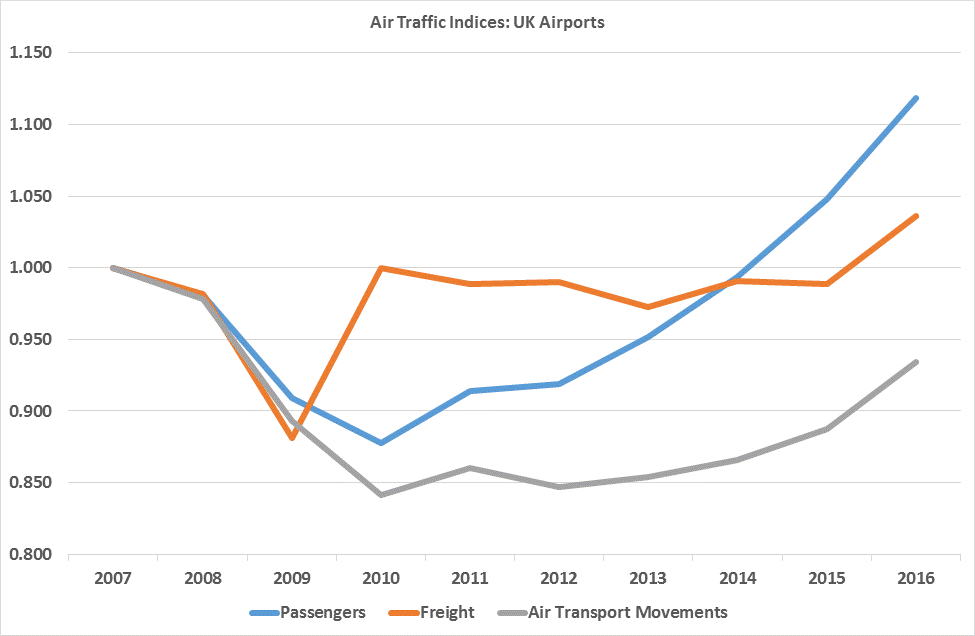 The UK's overall runway usage, i,e., the number of take offs and landings per annum (ATMs), peaked in 2007 and was in 2016 still fewer by 6.6%. The 2007 peak of ATMs was not a limit as there is still spare runway capacity at Stansted. UK passengers carried in 2016 increased by 12% over those in 2007 before the recession, but the associated runway usage, though increasing, is still less than in 2007. The number of passengers carried per flight has increased from 107 in 2007 to 128 in 2016 due to the deployment of bigger aircraft and will increase further with the trend to larger aircraft.
Figure 2 Heathrow trends shown as indices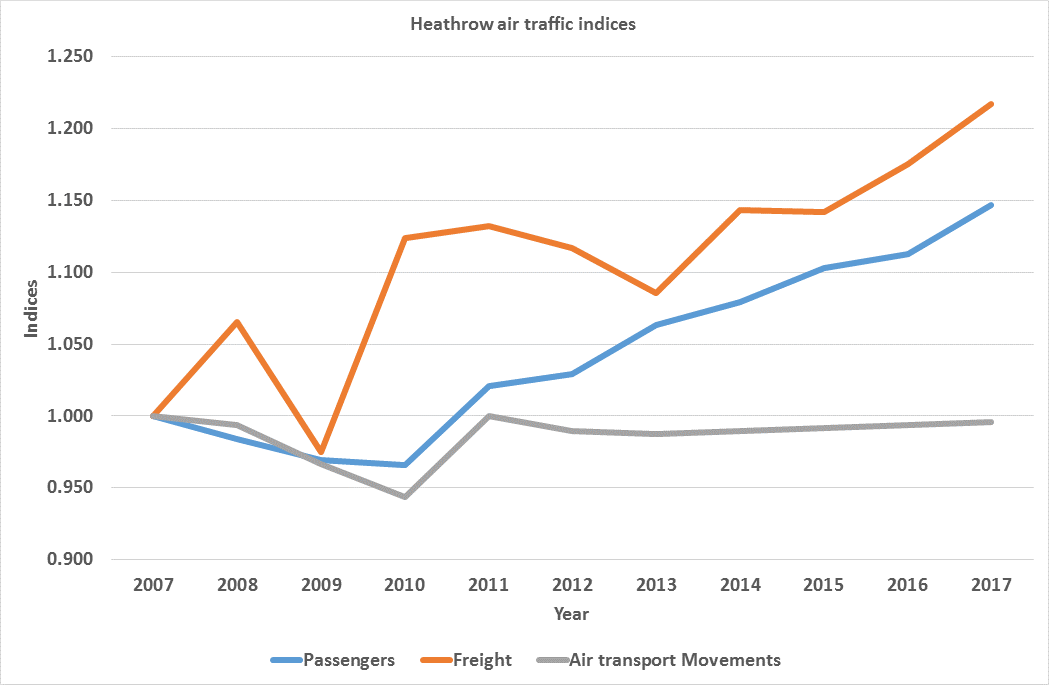 The trends at Heathrow show that since 2007 to 2017, passenger numbers increased by 14.7% and freight tonnage by 21.7%, but the number of take offs and landings has remained virtually the same throughout a decade at 446,000 passenger flights and 28,000 pure freight flights. Average passenger numbers per flight arriving and departing have increased from 150 to 175. To accomplish an increase in passenger numbers by 50% to 113 million a year, which the additional runway is envisaged to provide, airlines need only provide a fleet of aircrafts with average passenger numbers of 255. For certainty an average numbers of passengers carried per flight could readily be raised to 290 which would meet the aspirations of Heathrow in its prospectus of carrying 130 million passengers per year.
Airlines fleets could be composed of small and large aircraft provided that a growing average number of passenger numbers is attained to 255 by the time the expansion is required and to 290 to meet a prospectus 130 million passengers per year. Similar increased freight carrying capacity can be secured with larger aircraft.
The Airbus A380-800 is certified for up to 853 passengers, achievable with a one-class configuration, while it has a "three-class" 544-passenger configuration. The Boeing 777-300 has a seating capacity of up to 550, with a "three class" configuration of up to 396. Boeing's 747-400 has a seating capacity up to 524 with a "three class" configuration of 416.
Emirates had record passenger numbers in April 2017 with its A380s, which then only ran at 75% full, showing further increases to come. So it seems that the trend to deploy ever bigger aircraft will continue for the foreseeable future. The airlines have already invested in new, bigger aircraft, which will enable better use of runways and are not willing to pay additional airport charges to finance the building of another.
Meanwhile, Heathrow's chief executive John Holland-Kaye hailed 2016 as a "milestone year" as Heathrow Airport reported a rise in earnings and revenues. He said, "Passenger numbers rose 1 per cent to 75.7m in 2016" without realising that if numbers are rising with the deployment of bigger aircraft, but without the benefit of another runway, he is destroying his case for the third.

However, the current terminal capacity is just 85 million passengers per year, so to accommodate 50% increase in numbers a 13% increase in capacity is required, while to attain the aspirational number of 130 million, a 53% increase is required. However, the road and rail connections are unlikely to be expanded to cater for such an expansion.
Heathrow has expanded its passenger and freight traffic with no increase in air transport movements and without another runway. With the overall UK reduction in air traffic movements, there is ample runway capacity in the UK for the foreseeable future and there is no need for any more to be built.
Air traffic control
The ageing design of UK airspace means that there is a limit in the number of flights what can be managed without delays.
The Department for Transport estimates that, if airspace management remains unchanged, there will be 3,100 days' worth of flight delays by 2030 - that is 50 times the amount seen in 2015 - along with 8,000 flight cancellations a year. Adding 50% to the number of air traffic movements (ATMs) at Heathrow by building another runway will clearly worsen the control problem. As Heathrow's traffic with bigger aircraft is increasing without it, the concerns of the traffic controllers can be eased if its building is abandoned.
Hubs overflying
For example, Emirates announced the augmentation of a 8,588 mile service from Dubai to Panama City taking 17 and a half hours from 1 February 2016. Longer haul flights will avoid landing charges at an intermediate hub and also the excessive fuel use of landing and taking off. It also saves on staff logistics.
If long-haul flights are a continuing trend, it means that Heathrow's expansion to increase its role as a hub is questionable.
Heathrow's offshore financing
FGP Topco Limited is the ultimate owner of Heathrow, heading up 12 main subsidiary companies, as listed in Figure 3.
Figure 3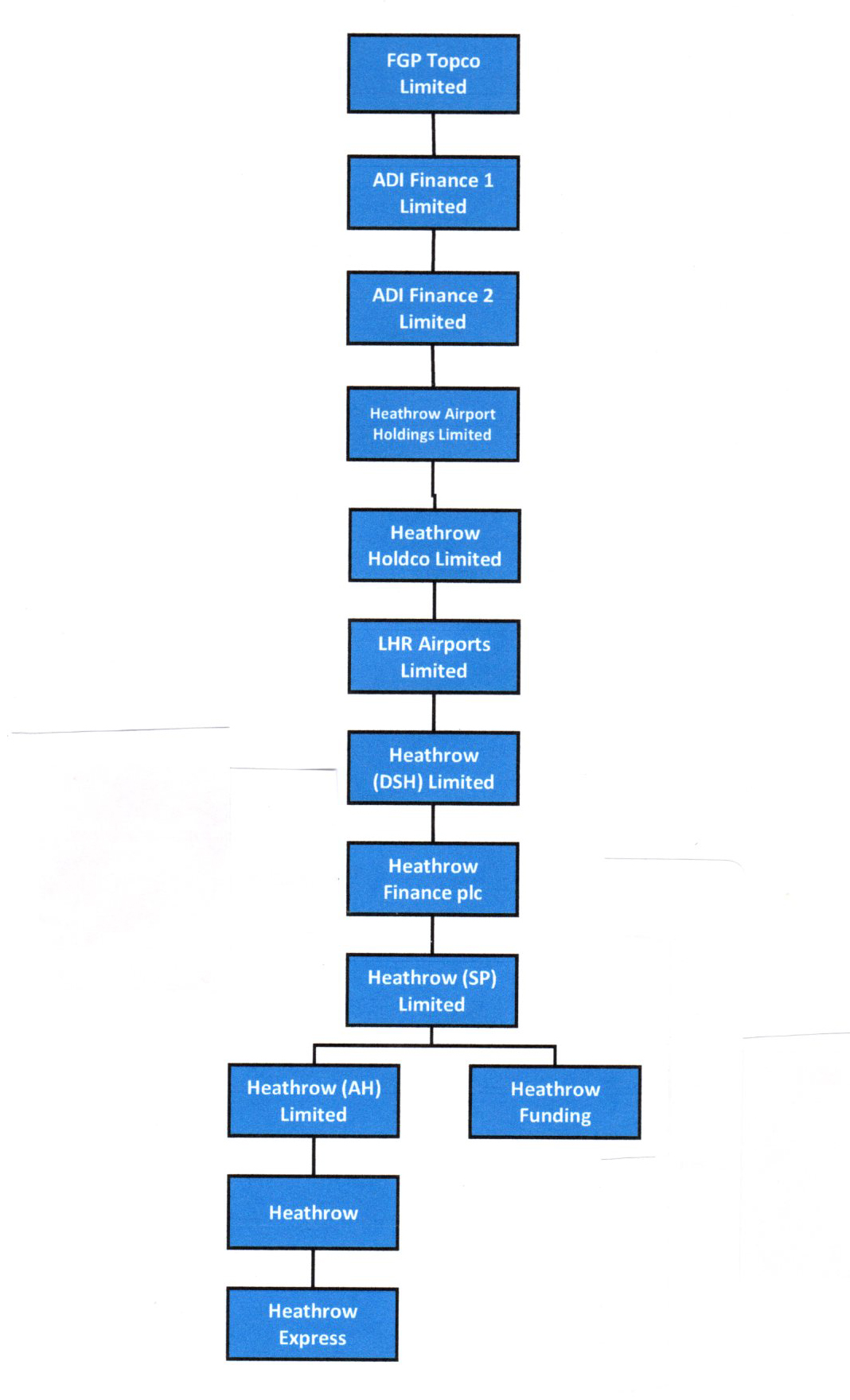 FGP Topco Limited, is a 90% foreign-owned holding company
(From FGP Topco Limited's Annual Report 2016)
FGP Topco's paid up shares amount to only ca. £13 million, while the capital for airport works is raised by issuing bonds totalling ca. £14 billion, around 20% of which are issued by Heathrow Finance plc and 80% by Jersey-based Heathrow Funding Limited.
Annual returns for 2016 published in Companies House show that FGP Topco has paid up shares of £505m in ADI Finance 1, which has paid up shares of £3812m in ADI Finance 2, which has paid up shares of £2666m in Heathrow Airport Holdings, which has paid up shares of £466m in Heathrow Holdco, which has paid up shares of £6309 in LHR Airports, which has paid up shares of £2177m in Heathrow (DSH), which has paid up shares of £3109m in Heathrow Finance plc, which has paid up £11 million of shares of in Heathrow (SP), which has paid up shares of £11m in Heathrow (AH), which has paid up shares of £10m in Heathrow Airport, which has paid up shares of £4 in Heathrow Express Operating Company Limited.
FGP Topco's annual reports, from its conception in 2006 up to the end of 2016, were analysed to get the total of the dividends it received, the amount of interest paid on the bond financing and the tax credits earned when the interest paid exceeded the operating profit. The dividends totalled £2.495 billion and the tax credits amounted to £860 million.
Assuming that 80% of the finance was raised offshore and thereby withholding taxes of 20% avoided, a rough calculation was made to assess the withholding tax avoided, i.e. £5938 million x 0.8 x 0.2 = ca. £950 million.

Dividend trail
In 2016 Heathrow Airport paid a dividend of £594m to Heathrow (AH) from "Retained Earnings", which added £2m to it and paid a dividend of £596m to Heathrow (SP) which stated that it passed £596m to Heathrow Finance plc, but which is unaccounted for in Heathrow Finance plc's annual report of 2016. Heathrow Finance plc paid a dividend of £616m to Heathrow (DSH) which paid £616m to LHR Airports. LHR Airports subtracted £88m from the £616m from Heathrow (DSH) and paid a £528m dividend to Heathrow Holdco, which paid Heathrow Airport Holdings the £528m. Heathrow Airport Holdings added 12m to its payment of then amounting to £540m to ADI Finance 2, £195m of which was used for loan repayment and £30m in interest payments, leaving £325m for ADI Finance 1.
However, according to its Financial Statements, the 2016 dividend of £325 million paid to FGP Topco's shareholders originated from the issuance of bonds (Summary cash flow, page 16) or was drawn from its profit and loss reserve (Note 7, page 93). It was not apparently paid out at the end of the "dividend trail".
Interest payments
In 6 of FGP Topco's ten years the interest payments on borrowings, together with losses on financial instruments, have led to costs exceeding the operating profit and leading to a loss. The company survives as a "going concern"
Tax credits
In the successive annual reports there are complex taxation calculations, but essentially the financial mode of operation has led over the ten years to the payment of £860m in tax credits by the taxpayers and a possible loss of bondholders' withholding tax of £950m.
Profit and Loss reserves
In FGP Topco and each of the subsidiaries there are Profit and Loss reserves.
These are listed in the table below.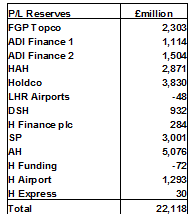 It is not certain whether these large sums have been consolidated into FGP Topco's Profit and Loss reserve of £2,303m, or if they can be summed. If the latter, the total is the colossal sum of £22.12 billion.
Heathrow Funding Limited
Of the four finance companies in the Heathrow group, Heathrow Funding Limited is registered offshore in Jersey. It originated as BAA Funding Limited when BAA was privatised and was split off when airports other than Heathrow were sold off.
There is much repetition in the chain of company annual reports, but much can be found in Heathrow Airport Holdings Limited (HAHL) successive annual reports.
See for example HAHL's Annual Reports for 2014
http://www.heathrow.com/file_source/Company/Static/PDF/Investorcentre/Heathrow-Airport-Holdings-Limited-31-December-2014.pdf
and those for 2015 and 2016.
At the end of 2014 the company had borrowings of over £12 billion with financing costs of £980 million eating up its operating profit of ca. £1 billion, leaving a profit of just £105 million before tax for a turnover of £2.7 billion and paid corporation tax of just £34 million. However, most of the interest payments were passed to Heathrow Funding Limited (HFL), an off-shore company registered in Jersey. HFL was split off from BAA Funding Limited by which the financing bonds for the BAA privatisation were issued and it now issues bonds for Heathrow's subsequent capital projects. This provided HFL with a profit in 2014 of £82 million, taxed only at £8,600 as a "securitisation" company, instead of UK corporation tax of £18 million at 21.5%.
HAHL's annual reports for 2014 and 2015 show corporation taxes paid of £34 million and £35 million, but the 2016 report shows it then received a tax credit of £71 million, giving it an overall tax credit of £2 million over the three years. With a combined 3-year turnover of £8.267 billion, HAHL effectively paid no corporation tax in 2014/2015/2016.
HFL's virtually untaxed profits in 2014 and 2015 were £82 million and £13 million, but its 2016 first half-year unaudited report published on 30 November 2016 showed an untaxed profit of £75 million. HFL's full year report was belatedly published on 2 August 2017 and shows a loss of £72 million, a reduction of £147 million in its half-year profit. This dramatic reversal needs further analysis before its significance can be understood.
The profits and losses go into a Profit and Loss Reserve which in 2016 stood at -£23 million, which if the £75 million half year profit had extended into the full year would have held £199 million.
Heathrow's borrowings
Heathrow's subsidiary Heathrow Finance plc in 2016 reported issued bond financing of around £14 billion, of which £11.5 billion was issued offshore in Jersey by Heathrow Funding Limited, around 80% of the funding.
In its 2013 prospectus Heathrow Funding Limited states:-
The Issuer believes that all payments made under a Borrower Loan Agreement can be made without deduction or withholding for or on account of any UK or Jersey tax.
If the bonds were issued in the UK, the interest paid to UK bondholders would be subject to "withholding tax" of 20%, which would mean they would require a higher interest rate than would appertain if issued offshore.
However, in its 2017 prospectus Heathrow Finance plc in an assuagement for its bondholders states:-
All payments by or on behalf of the Issuer under or with respect to the Notes will be made free and clear of and without withholding or deduction for or on account of any present or future Tax imposed or levied on such payments by or within the United Kingdom or by or within any department, political subdivision or governmental authority of or in the United Kingdom having power to tax (each, a "Relevant Taxing Jurisdiction"), unless the Issuer is required to withhold or deduct Taxes by law. In that event, the Issuer will pay additional amounts ("Additional Amounts") as may be necessary to ensure that the net amount received by each Noteholder and Couponholder after such withholding or deduction (including any withholding or deduction in respect of any Additional Amounts) will not be less than the amount the Noteholder or Couponholder, as the case may be, would have received if such Taxes had not been withheld or deducted.
In his Autumn Statement in 2016, the Chancellor of the Exchequer, avowed to stop what he sees as tax avoidance by the failure to pay UK tax on offshore interests. If he attains his aim, it means that Heathrow will have to issue its bonds in the UK making them less attractive to prospective bondholders with a consequent raising of interest rates or subject to compensation if withholding taxes are levied prior to payment. Also bonds mature and those currently issued offshore will have to be replaced by UK issued equivalents at a higher interest rate to compensate for the paying of the withholding tax.
If HM Treasury insisted that the whole £11.5 billion issued bonds offshore be replaced by UK equivalents it would be a catastrophe for Heathrow. In any case the current financial arrangements are unlikely to be able to fund the runway and the expansion of Heathrow's facilities without increasing airport charges, which it pledges will not rise and which airline operators will decline to pay.
Funding Heathrow's expansion

It appears that HAHL is effectively paying 8%/annum interest on its borrowings. So that the cost of its financing of the £17 billion expansion will require a similar sum in interest on construction progress payments over the construction period. Due to the interference to its business of the infrastructure activities, such as the tunneling of the M25, its Heathrow's revenue will be reduced, such that it may not be able to service its current debts, let alone the additional borrowings for the new runway. IAG has refused to pay additional airport charges to support the expansion expenditure as it has already invested in bigger aircraft to increase its traffic, so that it is reluctant to invest in a runway it doesn't need.

The taxpayer is expected to fund the £6 billion supporting infrastructure needed, but it is far from clear which government agency (or agencies) will co-ordinate with the airport the destruction of whole communities and the relocation of houses, a school, hotels and many businesses, including the Waterside complex and the Energy-from-Waste plant. Is this a fair charge on the taxpayer and burden on the government's resources to support a company with ca. 90% foreign ownership?
Also, if the current, partly offshore, funding of the expansion leads to corporation and withholding tax avoidance or to the procurement of tax credits, the taxpayer will fail to get a return on the investment in the connecting and supporting infrastructure.
Conclusion
The runway
There is no need for another runway at Heathrow as by an increase in the average passenger numbers per flight from 170 in 2016 to 255 will add the 50% to its capacity anticipated with the runway. By the end of 2017 the average number of passengers per flight had risen to 175. Also an increase to 290 average passengers per flight will attain its target of 130 million passengers a year. With no real need for a third runway at Heathrow or anywhere in the UK it is difficult to support such a great expenditure and interference to local social and business activity. The desired traffic increase can be achieved with the progressive deployment of bigger aircraft, the investment in which is already in hand..
In the UK as a whole the overall runway usage had declined in 2016 by 6.6% from that of 2007 when it peaked. Even at this level in 2007 there was adequate, standby runway capacity at Stansted. There is no need for additional runways in the UK for the foreseeable future as overall deployment of bigger aircraft will increase capacity in passenger and freight carrying and the current runway capacity is underused.
However, there is a strong case to improve the passenger and luggage handling at Heathrow to be able to accommodate ever bigger aircraft arrivals and departures, but no case for the construction of a third runway.
The financing
FGP Topco would need its finances restructuring to fund around £30 billion of additional borrowing to add to its current borrowings of £14 billion. The current adverse leverage with the owners' equity cannot continue, especially if the Chancellor of the Exchequer's initiative to stop offshore tax avoidance succeeds.
There is concern that, if the summation of the profit and loss reserves in the subsidiaries amounts to £22.12 billion and is not consolidated at £2.303 billion in FGP Topco's profit and loss reserve, then the £14 billion borrowings were not in their entirety necessary. The interest on the borrowings plus the costs of the supporting financial instruments then exceed the operating profit. This could be viewed as a device for the business to operate at a loss thus avoiding the payment of corporation tax and gaining tax credits..
John Busby 14 February 2018
(1) https://www.gov.uk/government/uploads/system/uploads/attachment_data/file/450380/avi0101.xls
(2) https://www.gov.uk/government/uploads/system/uploads/attachment_data/file/450479/avi0102.xls