Heathrow Third Runway
On 1 July 2015 the Airport Commission issued its Final Report and was immediately disbanded.
The Airport Commission ... unanimously concluded that the proposal for a new Northwest Runway at Heathrow Airport, in combination with a significant package of measures to address its environmental and community impacts..., presents the strongest case.
The Commission failed to make the case for the need for any more runways in the UK as it took no cognisance of the Department of Transport's (DfT) aviation statistics, or if it did, it failed to recognise their significance. DfT publishes traffic statistics annually at the end of July. (1) and (2). These two plots show the overall runway use in the UK and for Heathrow.
Figure 1 UK Runway usage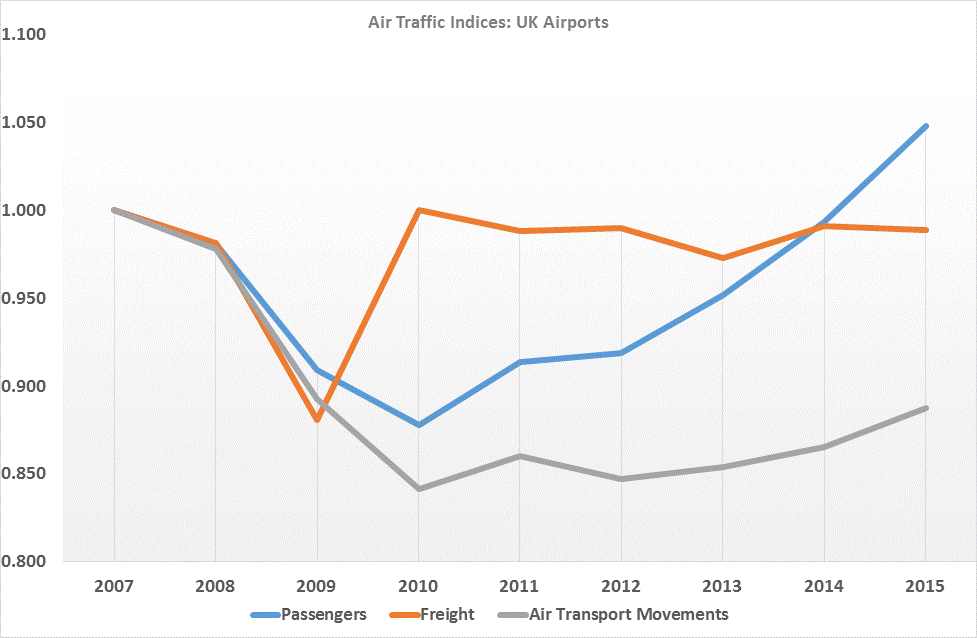 The UK's overall runway usage, i,e., the number of take offs and landings per annum, peaked in 2007 and has since reduced by 11.3% in 2015. UK passengers carried in 2015 increased by 5% over those in 2007 before the recession, but the associated runway usage has declined. The number of passengers carried per flight has increased, due to the deployment of bigger aircraft and will increase further with the trend to larger aircraft.
Figure 2 Heathrow trends shown as indices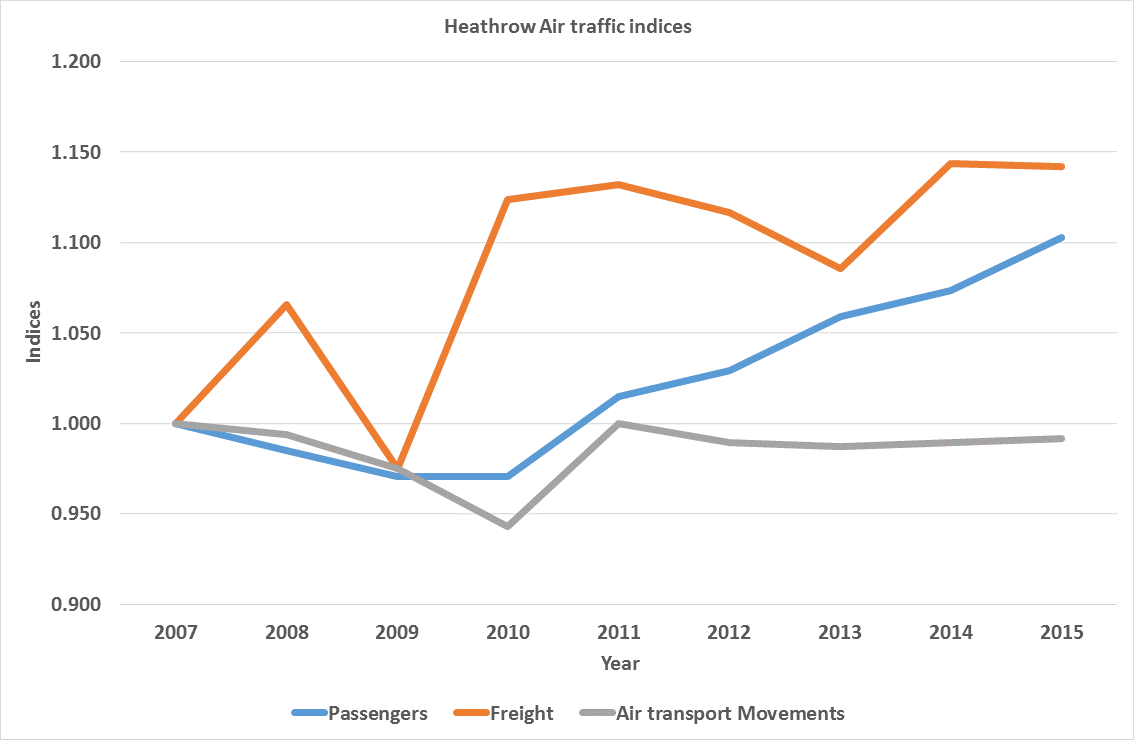 The trends at Heathrow show that since 2007, passenger numbers have increased by 10% and freight tonnage by 14%, but the number of take offs and landings has remained virtually the same. Average passenger numbers per flight arriving and departing have increased from 145 to 160.
Airbus has announced the next development of its A380 will take 30% more passengers than a Boeing 747, so it seems that the trend to deploy ever bigger aircraft will continue for the foreseeable future.
Heathrow has expanded its passenger and freight traffic with no increase in air transport movements and without the need for another runway. With the overall UK reduction in air traffic movements, there is ample runway capacity in the UK for the foreseeable future and there is no need for any more to be built.
Hubs overflying
Emirates has announced the augmentation of a 8,588 mile service from Dubai to Panama City taking 17 and a half hours from 1 February 2016. This will avoid landing charges at an intermediate hub and also the excessive fuel use of landing and taking off. It also saves on staff logistics.
If long-haul flights are a continuing trend, it means that Heathrow's expansion to increase its role as a hub is questionable.
Heathrow Airports Holdings Limited (HAHL)

Ownership (From Wikipedia)
See Heathrow's Annual Report for 2014
http://www.heathrow.com/file_source/Company/Static/PDF/Investorcentre/Heathrow-Airport-Holdings-Limited-31-December-2014.pdf

At the end of the year the company had borrowings of over £12 billion with financing costs of £980 million eating up its operating profit of ca. £1 billion, leaving a profit of just £105 million before tax for a turnover of £2.7 billion. However, most of the interest payments were passed to Heathrow Funding Limited, an off-shore company registered in Jersey, by which the financing bonds for the BAA privatisation and subsequent capital projects were issued. This provided it with a profit in 2014 of £82 million, taxed only at £8,600 as a "securitisation" company, instead of UK corporation tax of £18 million at 21.5%.

It appears that the company is paying 8%/annum interest on its borrowings. so that the cost of its financing of the £17 billion expansion will require a similar sum in interest on construction progress payments over the construction period. Due to the interference to its business of the infrastructure activities, such as the tunnel over the M25, its revenue will be reduced, such that it may not be able to service its current debts, let alone the additional borrowings for the new runway.

The taxpayer is expected to fund the £6 billion infrastructure needed, but which government agency (or agencies) will organise the destruction of whole communities and the relocation of houses, a school and many businesses, including the Energy-from-Waste plant, is far from clear. Is this a fair charge on the taxpayer and burden on the government's resources to support a company with ca. 90% foreign ownership?
Conclusion
There is no need for another runway at Heathrow, or in the UK as the overall runway usage has declined by 11.3% since 2007 when it peaked. Even at this level in 2007 there was adequate, standby runway capacity at Stansted. With no real need for a third runway at Heathrow or anywhere it is difficult to support such a great expenditure and interference to local social and business activity.
HAHL will need its finances restructuring to fund around £30 billion of additional borrowing to add to its current borrowings of £12 billion. To garner a better return on the taxpayers' infrastructure investment, Heathrow Funding Limited should be re-registered in London.
There is a strong case to improve the passenger and luggage handling at Heathrow to be able to accommodate ever bigger aircraft arrivals and departures, but no case for the construction of a third runway.
John Busby 20 April 2017
(1) https://www.gov.uk/government/uploads/system/uploads/attachment_data/file/450380/avi0101.xls
(2) https://www.gov.uk/government/uploads/system/uploads/attachment_data/file/450479/avi0102.xls