Heathrow Third Runway
On 1 July 2015 the Airports Commission issued its Final Report and was immediately disbanded.
The Airport Commission ... unanimously concluded that the proposal for a new Northwest Runway at Heathrow Airport, in combination with a significant package of measures to address its environmental and community impacts..., presents the strongest case.
The Commission failed to make the case for the need for any more runways in the UK as it took no cognisance of the Department of Transport's (DfT) aviation statistics, or if it did, it failed to recognise their significance. DfT publishes traffic statistics annually at the end of July, but this is often delayed until October and November. See links (1) and (2).
These two plots show the overall runway use in the UK and at Heathrow. The annual figures for passenger numbers, freight weights and air transport movements are divided by those for 2007, when runway use peaked in the UK and at Heathrow, to create comparative indices.
Figure 1 UK Runway usage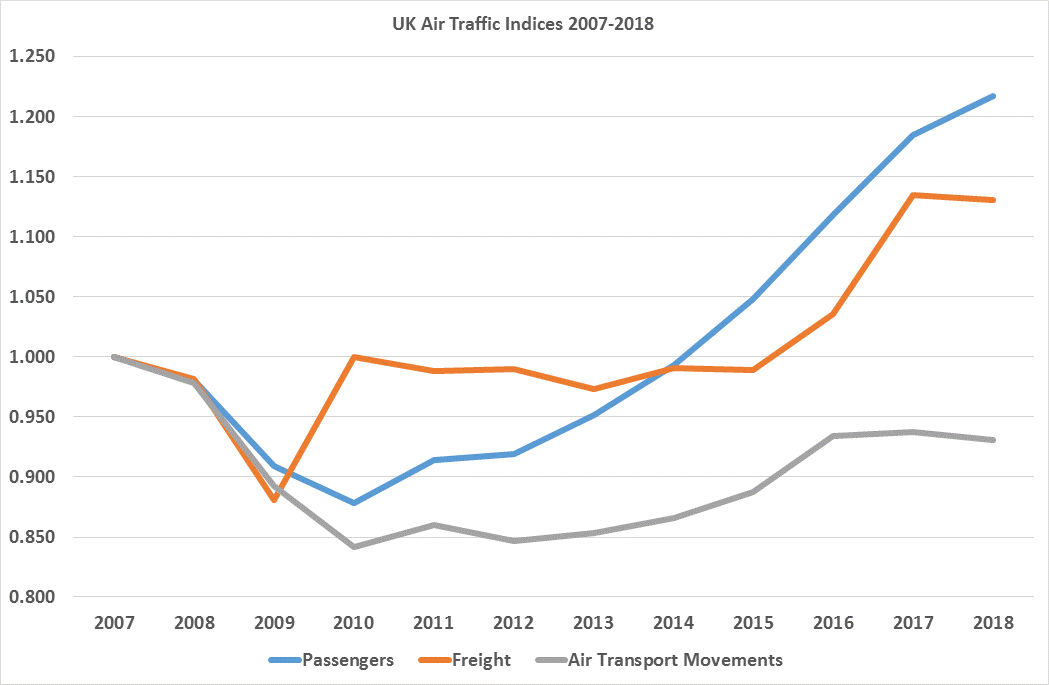 The UK's overall runway usage, i,e., the number of take offs and landings per annum (ATMs), peaked in 2007 and was in 2018 still fewer by 7.3%. The 2007 peak of ATMs was not a limit as there is still spare runway capacity at Stansted. UK passengers carried in 2018 increased by 21.7% over those in 2007 before the recession, but the associated runway usage, now decreasing slightly, is still less than in 2007. The number of passengers carried per flight has increased from 107 in 2007 to 140 in 2018 due to the deployment of bigger aircraft and will increase further with the trend to larger aircraft. Freight carried increased by 13.1% in eleven years with fewer movements than 2007, and with a slight decrease from 2017.
Figure 2 Heathrow trends shown as indices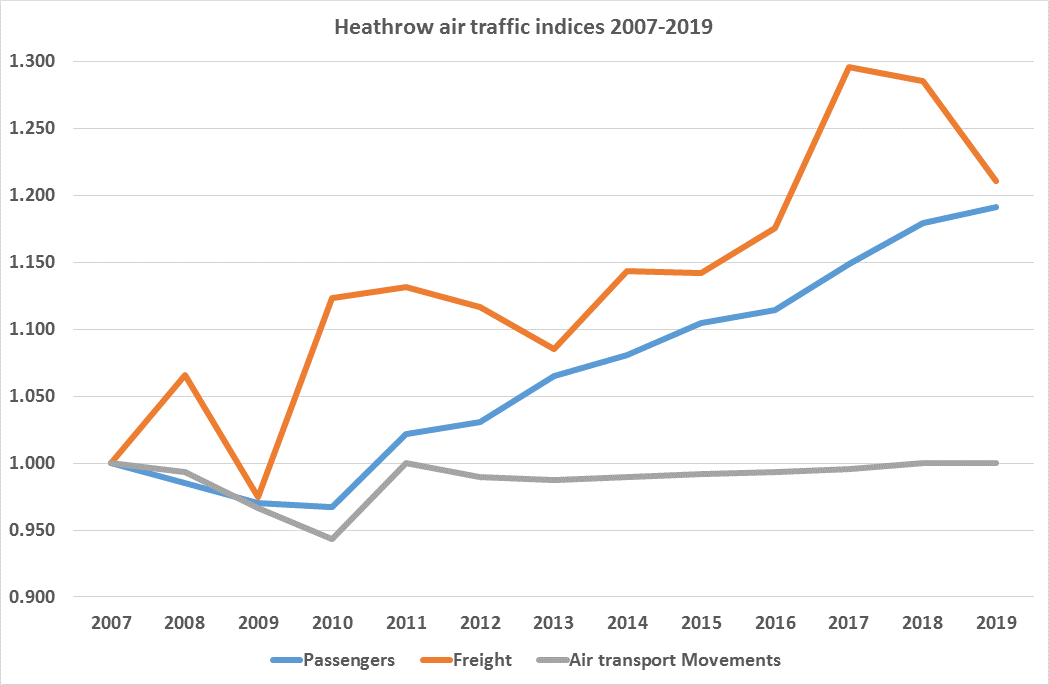 The trends at Heathrow show that since 2007 to 2019, passenger numbers increased by 19%. Freight tonnage had increased by 29.6% in 2017, fell a little to 28.5% in 2018, but decreased to 21,1% in 2019. The number of take offs and landings has remained virtually the same throughout a decade at 473,000 passenger flights and 3,000 pure freight flights, totaling 476,000 as in 2007. The freight tonnage carried decreased by 8.5% from 2017 to the end of 2019, possibly due to the Brexit effect.
Average passenger numbers per flight arriving and departing have increased from 150 to 171 with 80% occupation. To accomplish an increase in passenger numbers by 50% over 75 million in 2014 to 113 million a year, which the additional runway is envisaged to provide, airlines need only provide a fleet of aircrafts with average passenger numbers of 240. For certainty an average numbers of passengers carried per flight could readily be raised to 275 which would meet the aspirations of Heathrow in its prospectus of carrying 130 million passengers per year. The annual number of passengers handled is more likely to be limited by surface access capacity than by other factors.
Airlines fleets could be composed of small and large aircraft provided that a growing average number of passenger numbers is attained to 255 by the time the expansion is required and to 290 to meet a prospectus 130 million passengers per year. Similar increased freight carrying capacity can be secured with larger aircraft.
The Airbus A380-800 is certified for up to 853 passengers, achievable with a one-class configuration, while it has a "three-class" 544-passenger configuration. The Boeing 777-300 has a seating capacity of up to 550, with a "three class" configuration of up to 396. Boeing's 747-400 has a seating capacity up to 524 with a "three class" configuration of 416.
Emirates had record passenger numbers in April 2017 with its A380s, which then only ran at 75% full, showing further increases to come. So it seems that the trend to deploy ever bigger aircraft will continue for the foreseeable future. The airlines have already invested in new, bigger aircraft, which will enable better use of runways and are not willing to pay additional airport charges to finance the building of another.
Meanwhile in 2017, Heathrow's chief executive John Holland-Kaye hailed 2016 as a "milestone year" as Heathrow Airport reported a rise in earnings and revenues. He said, "Passenger numbers rose 1 per cent to 75.7m in 2016" without realising that if numbers are rising with the deployment of bigger aircraft, but without the benefit of another runway, he is destroying his case for the third.
A record-breaking 78 million passengers went through Heathrow in 2017, marking a more than 3 per cent increase on the previous year's figure, thanks to larger and fuller aircraft flying in and out of the international transport hub. The airport said that Heathrow had also become one of the fastest growing major European hubs for cargo. A total of 1.7 million metric tonnes of cargo passed through the airport during the 12-month period.
However, the current terminal capacity is just 85 million passengers per year, so to accommodate 50% increase in numbers a 13% increase in capacity is required, while to attain the aspirational number of 130 million, a 53% increase is required. However, the road and rail connections are unlikely to be expanded to cater for such an expansion.
Heathrow has expanded its passenger and freight traffic with no increase in air transport movements and without another runway. With the overall UK reduction in air traffic movements, there is ample runway capacity in the UK for the foreseeable future and there is no need for any more to be built.
Air traffic control
The ageing design of UK airspace means that there is a limit in the number of flights what can be managed without delays.
The Department for Transport estimates that, if airspace management remains unchanged, there will be 3,100 days' worth of flight delays by 2030 - that is 50 times the amount seen in 2015 - along with 8,000 flight cancellations a year. Adding 50% to the number of air traffic movements (ATMs) at Heathrow by building another runway will clearly worsen the control problem. As Heathrow's traffic with bigger aircraft is increasing without it, the concerns of the traffic controllers can be eased if its building is abandoned.
Hubs overflying
For example, Emirates announced the augmentation of a 8,588 mile service from Dubai to Panama City taking 17 and a half hours from 1 February 2016. In 2018 Quantas started to fly 9,009 miles from Heathrow to Perth in Australia in 17 hours 20 minutes. Longer haul flights will avoid landing charges at an intermediate hub and also the excessive fuel use of landing and taking off. It also saves on staff logistics.
If long-haul flights are a continuing trend, it means that Heathrow's expansion to increase its role as a hub is questionable.
Heathrow's owner
FGP Topco Limited is the ultimate owner of Heathrow, heading up 12 main subsidiary companies, as listed in Figure 3.
Figure 3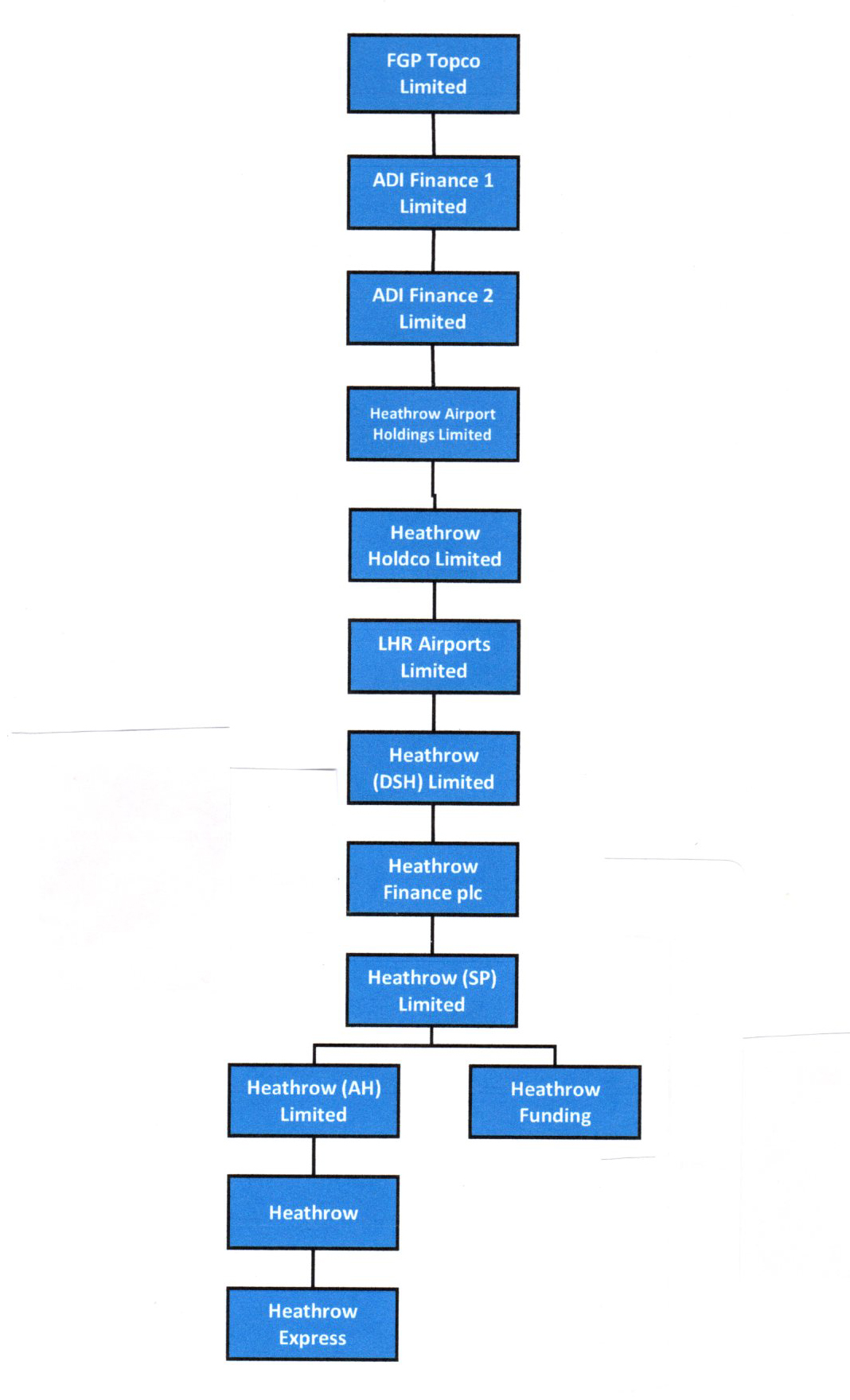 FGP Topco Limited, is a 90% foreign-owned holding company
(From FGP Topco Limited's Annual Report 2016)
Heathrow's Offshore Funding
FGP Topco Limited has four finance companies, ADI Finance 1 Limited, ADI Finance 2 Limited, Heathrow Finance plc, with one Heathrow Funding Limited registered in Jersey.
It is financed by debt of £15 billion issued as bonds, 20% by Heathrow Finance plc in London and 80% by Heathrow Funding Limited in Jersey. Funding offshore is a means of avoiding the payment of withholding tax on the bonds interest and the Chancellor of the Exchequer pledged to stop it in his Autumn Statement in 2016.
For a full examination of Heathrow's finances see, http://www.after-oil.co.uk/heathrowfinance.htm
Conclusion
The runway
There is no need for another runway at Heathrow as by an increase in the average passenger numbers per flight from 150 in 2007 to 170 in 2016 and then to 255 will add the 50% to its capacity anticipated with the runway. By the end of 2017 the average number of passengers per flight had risen to 175. Also an increase to 290 average passengers per flight will attain Heathrow's ultimate target of 130 million passengers a year with no extra airport traffic movements.
With no real need for a third runway at Heathrow or anywhere in the UK it is difficult to support such a great expenditure and interference to local social and business activity. The desired traffic increase can be achieved with the progressive deployment of bigger aircraft, the investment in which is already in hand..
In the UK as a whole the overall runway usage had declined in 2017 by 6.3% from that of 2007 when it peaked. Even at this level in 2007 there was adequate, standby runway capacity at Stansted. There is no need for additional runways in the UK for the foreseeable future as overall deployment of bigger aircraft will increase capacity in passenger and freight carrying and the current UK runway capacity is underused.
However, there is a strong case to improve the passenger and luggage handling at Heathrow to be able to accommodate ever bigger aircraft arrivals and departures, but no case for the construction of a third runway.
See http://www.after-oil.co.uk/LHR_Business.htm for projections of Heathrow's business with annual increases of 3% for passenger numbers and 3.6% for freight carried.
The financing
FGP Topco Limited's subsidiary Heathrow Airport Limited is licensed and regulated by the CAA. The regulator allows its airport charges to rise to cover its capital expenditure and the interest thereon. This has facilitated the rising of the charges over the decade from ca. £8 per passenger to £23. The airlines are refusing to pay additional airport charges to fund the construction of the expansion.
Unless FGP Topco is prepared to make a cash equity injection the financing of the expansion will not be accomplished. As the 50% traffic growth is underway without the runway, FGP Topco has no incentive to put up perhaps £30 billion in cash, the building of the runway will not happen and the associated destruction of the local economy will be avoided.
John Busby 28 February 2020
(1) https://www.gov.uk/government/uploads/system/uploads/attachment_data/file/450380/avi0101.xls
(2) https://www.gov.uk/government/uploads/system/uploads/attachment_data/file/450479/avi0102.xls